Launching a B2B channel does not have to be complex. The new Elastic Path Pre-Composed Solution for B2B Commerce, designed in partnership with DigiCommerce, simplifies the process with a business-ready solution that provides a quick start to launch complex and unique B2B experiences.
Launch Fast: Get to market fast with complete B2B functionality including Advanced Quoting, Account Management, Complex Catalog Support, and Role-Based Access Control
Customize with Ease: Flexible, microservices-based functionality that empowers brands with the control to address their unique requirements as business needs change
Improved Customer Experience: Provide digitally savvy B2B buyers the purchasing experience they expect and reduce cart abandonment
Features
The Pre-Composed Solution for B2B Commerce features include:
Sales Rep Portal
Advanced Quote Management
Highly customizable Account Management
Advanced Budgets and Permissions
One-Click Checkout Process
Microsites
Quick Orders, Bulk Orders and Re-Orders
Shareable Shopping Lists and Saved Carts
Subscription Products and workflow
Split Shipments
Dynamic Contract Pricing
RMA Process
Join DigiCommerce and Elastic Path for a live demo on May 20th at 11:30 AM EDT.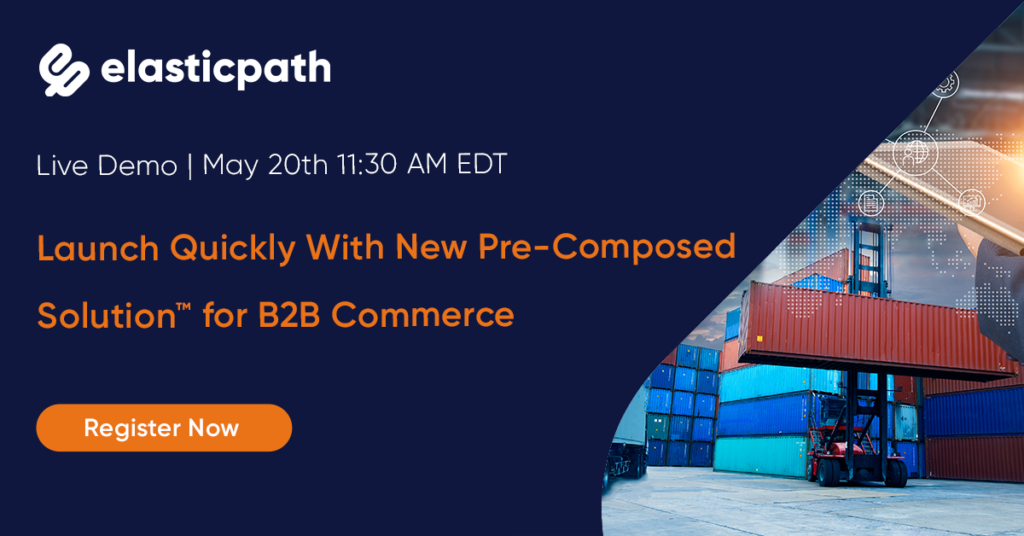 About DigiCommerce
DigiCommerce is a full service interactive and technology agency which excels in providing personalized content and commerce solutions to its customers. They have a strong ability to implement commerce solutions through multiple channels (omni-channel) from B2C, B2B and B2B2C across all industries. DigiCommerce helps clients align business processes to take full advantage of the technology to drive measurable results.  DigiCommerce company is fast moving, yet focused.
About Elastic Path
Elastic Path is famous for its innovative headless eCommerce system. Further, brands eager to distinguish themselves from the pack with a unique eCommerce experience, can turn to Elastic Path. Consequently, the mission is to build technology that accelerates growth, making it easy for stand-out brands – like T-Mobile, Tesla, and Intuit – to deliver unique digital experiences that unlock revenue growth at speed. Additionally, over 250 of the world's most innovative brands have partnered with Elastic Path to break away from the pack. Finally, you can, too. Also, learn how at www.elasticpath.com.