According to Deloitte, companies with a more inclusive workplace culture are up to six times as likely to be innovative. Interestingly, the study also suggests that companies that actively prioritize gender inclusivity are also more likely to attain financial targets. Furthermore, Digital Commerce 360 finds that in the top eCommerce retail companies, women make up 40% of leadership. This is higher than most sectors in general and might explain some of the innovation in eCommerce and technology.
Indeed, the best performing eCommerce companies create an enabling environment that gives women a feasible path to leadership positions. Moreover, they aim to use technology as a tool to break barriers within organizations and maintain competitiveness in the marketplace. Besides, in leadership positions, women are typically more likely to seek compromise. Nonetheless, this is a key asset in today's rapidly changing technology landscape. For today's technology companies to survive long term, a balanced decision making approach which includes the perspective of women is non negotiable.
DigiCommerce has recognized this internally and celebrates the women leading the way in ecommerce!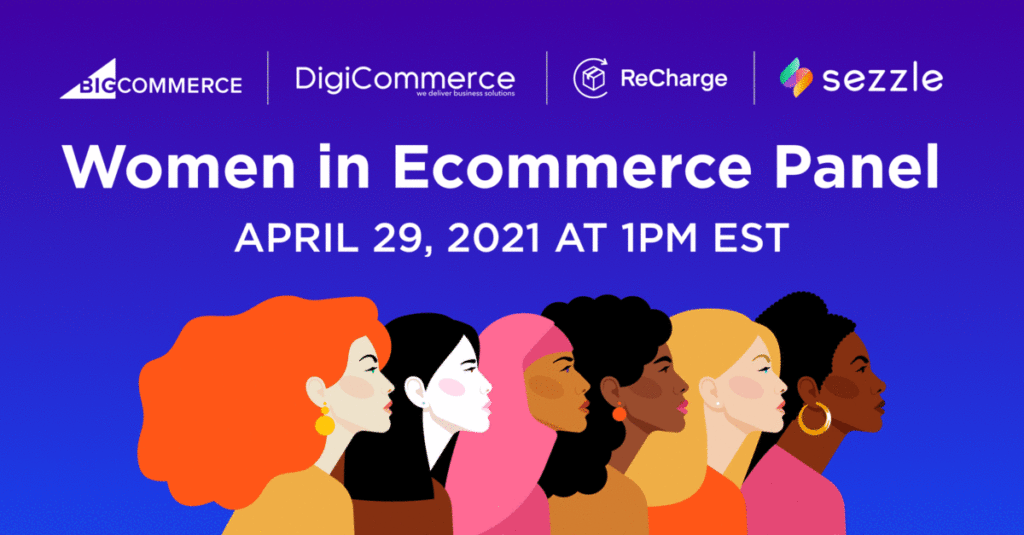 Register for our inaugural Women in Ecommerce Panel Series alongside DigiCommerce's partners, BigCommerce, ReCharge Payments and Sezzle on April 29th, 1pm ET.
About DigiCommerce
DigiCommerce is a full service interactive and technology agency which excels in providing personalized content and commerce solutions to its customers. The agency has a strong ability to implement commerce solutions through multiple channels (omni-channel) from B2C, B2B and B2B2C across all industries.
BigCommerce is the world's leading cloud ecommerce platform for established and rapidly-growing businesses. It enables businesses to grow online sales with 80% less cost, time and complexity than on-premise software. BigCommerce powers B2B and B2C ecommerce for SMBs, mid-market businesses and Fortune 1000 companies. Some clients include industry-leading brands including Assurant, Ben & Jerry's, and Gibson.
ReCharge is the leading subscriptions payments platform for merchants to set up and manage dynamic recurring billing across web and mobile. It has helped over 15,000 merchants launch and scale their subscription business. ReCharge powers billions of dollars in annual processing for nearly 30 million consumers including a curated monthly box, recurring necessities or access to exclusive perks.
Sezzle is a public-benefit corporation on a mission to financially empower the next generation. Furthermore, it is the number 1 shopper-rated Buy Now, Pay Later product. Sezzle gives millions of shoppers across the US and Canada the power to take control of their spending and achieve financial freedom