The technology sector, including eCommerce, are leading the charge to embrace more flexible work arrangements for employees. In fact, these work arrangements can benefit both genders. However with women feeling the primary effects of juggling childcare and career, it is also a gender equity issue. Some key considerations need to be made before companies can implement of workplace policies
Continued Engagement
Companies must ensure they maintain opportunities for their workforce to engage management about concerns such as reduced career opportunities. Working from home or part-time can decrease connection to colleagues, access to mentorships and the associated social capital. The pandemic highlights the need for companies to employ tools and organize virtual events that foster those connections while working from home.
Appreciate remote work
90% of employers have found that productivity has remained constant or improved between March and October of last year. The pandemic was an opportunity for many outdated negative perceptions surrounding flexible work arrangements to shift.
Many technology companies are designing new flexible work policies to ensure career development and growth. Moreover, women's participation in the workplace was at an all time high in 2019. The recent global shift towards adopting more flexible work arrangements will help to grow this participation and retain top talent.
DigiCommerce has adopted its own flexible work environment and applauds the companies leading the way in creating gender equity!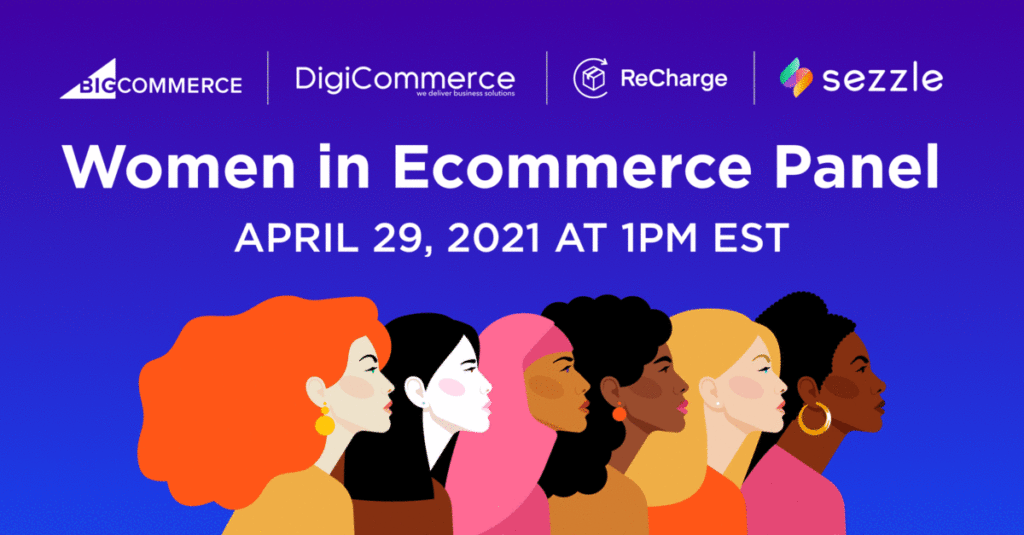 Register for our inaugural Women in Ecommerce Panel Series alongside DigiCommerce's partners, BigCommerce, ReCharge Payments and Sezzle on April 29th, 1pm ET.
About DigiCommerce
DigiCommerce is a full service interactive and technology agency which excels in providing personalized content and commerce solutions to its customers. The agency has a strong ability to implement commerce solutions through multiple channels (omni-channel) from B2C, B2B and B2B2C across all industries.
BigCommerce is the world's leading cloud ecommerce platform for established and rapidly-growing businesses. It enables businesses to grow online sales with 80% less cost, time and complexity than on-premise software. BigCommerce powers B2B and B2C ecommerce for more than 60,000 SMBs and 2,000+ mid-market businesses. It includes more than 25 Fortune 1000 companies, and industry-leading brands including Assurant, Ben & Jerry's, and Gibson.
ReCharge is the leading subscriptions payments platform for merchants to set up and manage dynamic recurring billing across web and mobile. It has helped over 15,000 merchants launch and scale their subscription business. ReCharge powers billions of dollars in annual processing for nearly 30 million consumers including a curated monthly box, recurring necessities or access to exclusive perks.
Sezzle is a public-benefit corporation on a mission to financially empower the next generation. Furthermore, it is the number 1 shopper-rated Buy Now, Pay Later product. Sezzle gives millions of shoppers across the US and Canada the power to take control of their spending and achieve financial freedom